This week as it was to me
Work has been a dominating feature – so much so that I've struggled to blog on top of it. All going well, delivering what I need to quickly and getting more interesting activities on the back of it. I like the people I work with, I like the ethos in the organisation, I can also see how cuts and efficiency-restructure takes its toll, and is exceptionally complex in a health organisation with so many stakeholders and such high stakes.
I bought a bike this week – a single-speed hybrid recycled bike. Haven't had a chance to put it really through its paces yet.
And I've been busy on weekends. Two weeks back was a trip to Kielder water, the massive reservoir in the Northeast. Camped among chickens and bemused sheep.
Just spent a nice weekend in Edinburgh, teaching mask improv and enjoying a little time in that most lovely of cities.
Building
Workwise I'm trying to formalise a pipeline and process for a psychoeducation group in the city, so thinking about referral processes, communications, tracking etc. Also outside of the day job trying out what could be a semi-regular gig writing some think-pieces on workplace psych.
Art and improv
Had a great time in Ed, as mentioned. One-day workshop with a cosy group, lots of discoveries with the masks.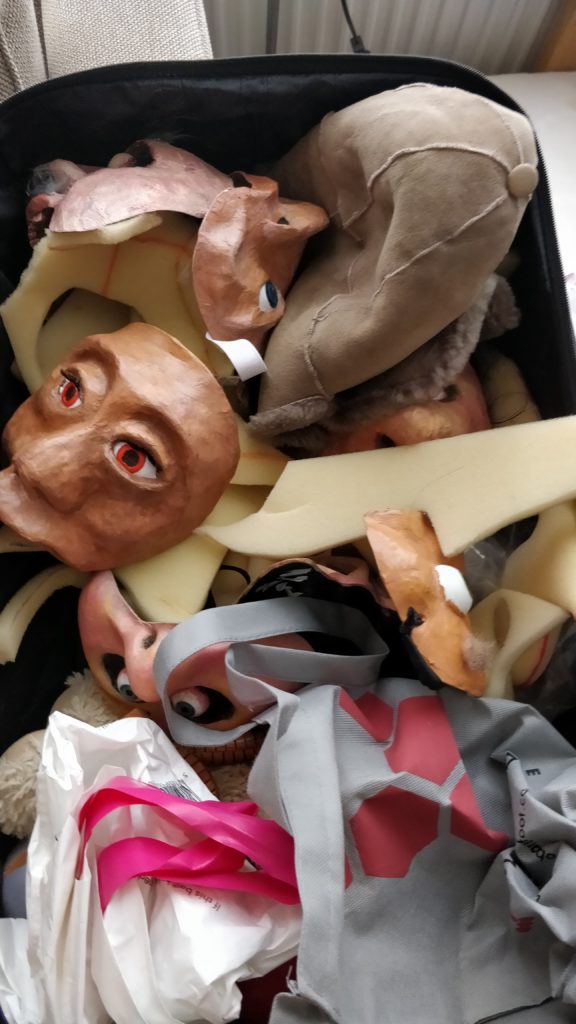 We found a scene centred around adoption/fostering where the breaking of boundaries was mediated through a teddy and it was heartbreaking.
Connections and thanks
Thanks to new friend Tom for putting us up in Edinburgh.
Last week checked out singing pals as part of the Northern Electric Festival. They did weird and great things.
Had a lovely meetup with the improv gang and ate great curry (keralan squid!) and laughed together for an evening.
Recommendations
I saw First Reformed this weekend and it knocked me backwards. Slow burn, intense and upsetting – but not gratuitously, because it deals our environmental crises, and what it looks and feels like when we stop turning away from them.
This looks interesting: Blot, a blogging platform with no interface, just files uploaded to a dropbox folder.
Branches outward
Fuck you, I'm not a Millenial (h/t Jay)
I will one day have to explain to my children that their father once ran a CD store, and then I'll have to explain what in the hell a CD was, and I won't be able to help bringing up MiniDiscs in the process. They will pat me patronizingly on the head, certain that I am showing the first signs of dementia, and ask if the robot maid is done doing their laundry yet.
Tom Waits on the creative process:
"Kids are always working on songs and throwing them away, like little origami things or paper airplanes. They don't care if they lose it; they'll just make another one." This openness is what every artist needs. Be ready to receive the inspiration when it comes; be ready to let it go when it vanishes. He believes that if a song "really wants to be written down, it'll stick in my head. If it wasn't interesting enough for me to remember it, well, it can just move along and go get in someone else's song." "Some songs," he has learned, "don't want to be recorded." You can't wrestle with them or you'll only scare them off more. Trying to capture them sometimes "is trying to trap birds."
We have to make sense of our differences and to conduct our interpersonal relationships in a way that is considerate and democratic instead of ignorant and tyrannical. If we turn our backs on our universal human duty of attempting to discern the truth of who we are as men and women, we doom both sides to a nihilistic power game, a Hobbesian nightmare of perpetual inter-gender warfare, replete with righteously indignant groupthink, spiteful denigration of the other side, and a grim fight for dominance characterized by constant victimization one-upmanship. I have experienced the suffering of both sides of this bitter war. Now I'd like to do my part, small though it may be, to bring about some peace through truth.