This week as it was to me
First off, I missed a week. I was going to squeeze something out a couple of days late, but the reason for missing last Sunday was the killer book deadline that I've only just passed, so it needed to wait.
So there hasn't been so much to report until the last few days.  Had a nice roast ham dinner in the workspace we use for improv. Went to the Newcastle Late Shows yesterday and saw some random arty stuff. And had a lovely day out at Tynemouth today and did some more coast exploring.
Building
Shipped the book on Friday. Already knee deep in revisions from the editor, but this is the lion's share of the work done, and to contract. Phew! Feel like there is more I want to talk about soon regarding the writing process.
Art and improv
Singing at the Beamish Museum yesterday was a ton of fun. Got costumes and everything! If you want to give Sacred Harp a go, the UK resource page is here.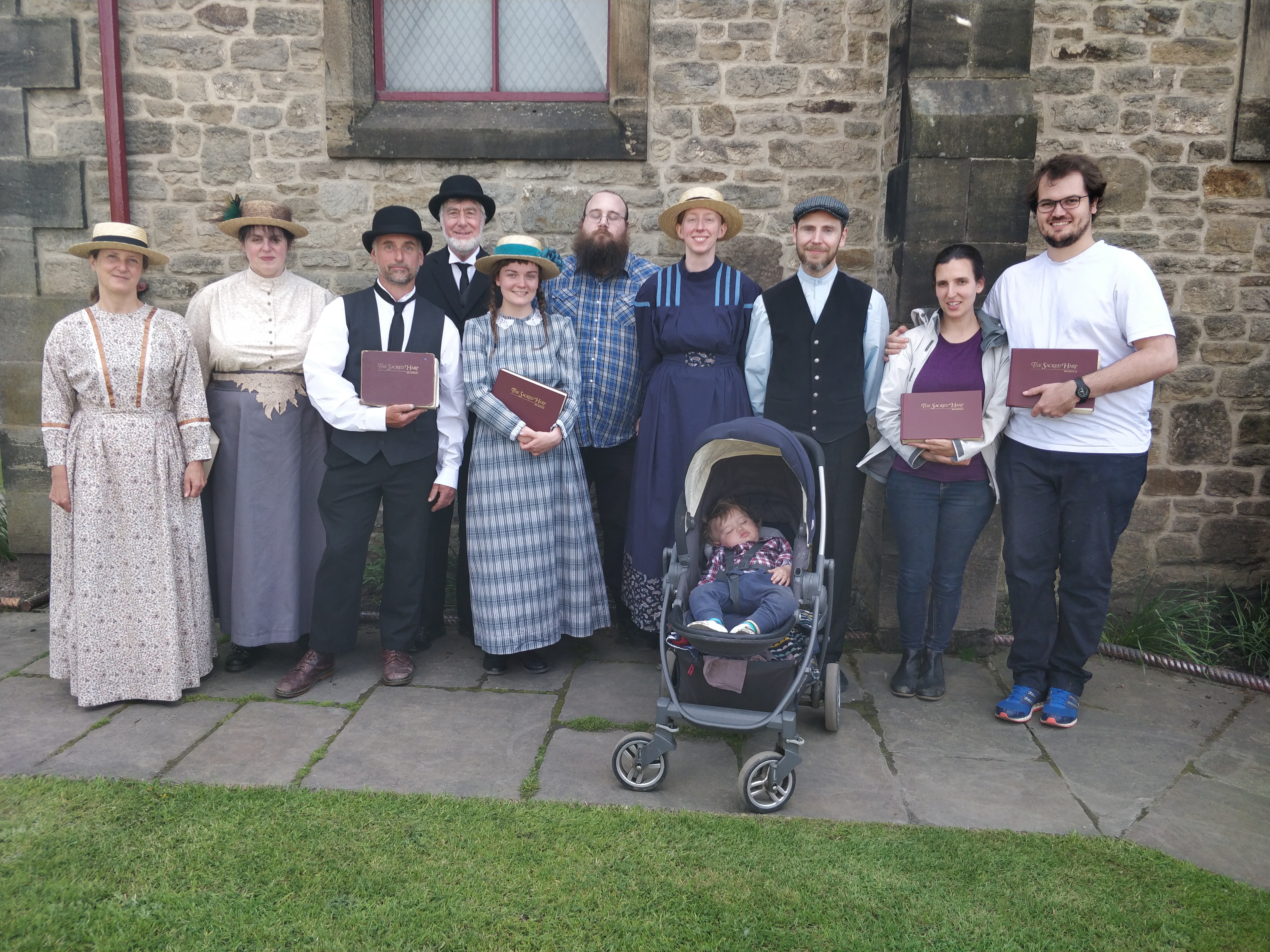 Also had a fun improv rehearsal this week where we introduced Annoyance Theatre-style catchphrases and gestures into the monologue work the guys had been doing in the past weeks.
Giving and receiving
Spent my celebratory night after finishing the book cheering up a friend cut up about relationship stuff. Was actually nice, I was too tired to do much else. And my flatmates had an barbecue yesterday that I swung by, and also mysteriously turned up at the late shows and gave me a lift home!
Recommendations
My mate Jayne I sing with also does cool electronic looping folk. She did her stuff at the Late Shows and it was great. Album crowdfunder here.
If you're local to the North East and want a lovely harmonic barbershop quartet to charm you, Late Shows also introduced me to the fact that my mate Andy is in one and they are great.
Marvel stuff: Thor Ragnarok was really excellent. Black Panther was… ok? I remember being quite engaged at points but now I'm not sure why.
I've finally got the Key and Peele series on DVD and it does deserve the hype.
Branches outward
Scots believe they have met mythical creatures
Pat Kane on creative companions in an AI world, and work and play
Reading
Went back to start Origamy again (review here), as I left it a month and now can't remember what's what. It's a science fiction book about circus-skilled reality weavers who travel through space-time and celebrate and protect life. There is a lot of science, especially heavy amounts of biology; the author is an academic of experimental architecture, which seems to involve a lot of chemistry and synthetic biology, so she knows her stuff and it shows.  It's an overflowing, abundant book, fecund and alive; Sometimes I feel like it needs a stricter editor to cut down the proclivity for lists (over forty shades of black, 11 different kinds of material processed in this stomach, 9 in this one, etc etc) but I can understand that stylistically it feeds into the abundance vibe, overwhelming with richness and plenty. There is a question, of course, if that ends up grating for the reader; we'll see.
Thinking through
Who this? Extended excerpts from a profile of an intellectual superstar, with gender and minor details edited to keep you guessing
A few years ago, XXXX was an obscure academic… and then, overnight, he/she was famous.
It's a measure of how much his/her life has changed that during a whistlestop few days in Britain he/she has had a private leadership session with banking executives in the City, an evening in front of a capacity crowd at Alain de Botton's School of Life, an all-day workshop … and a whole string of interviews to mark the launch of his/her latest book,
On the one hand he/she's now reaching the kind of audience that most academics can only dream of. On the other he/she seems, well, a bit exhausted.
Later he/she told a friend how embarrassed he/she was that he/she'd opened up like that and how terrified he/she was that … "up to 500 people" might see it. Or, imagine, a thousand. "My life would be over," he/she said. But a few more than that did – the video went viral.
XXXX: 'I want to be brave with my work and I want to be brave with my life.' People will find a million reasons to tear it down, so you have to be really sure about what you're doing, because in the end, if you believe in it that's enough."
It's quite a speech – both heartfelt and a bit defiant – and it's a reaction to a series of questions I've asked him/her. Doesn't it put too much onus on the individual, I ask. Given that many people have problems – such as being poor – which they can't necessarily fix? And has there been independent research into whether his/her theories actually work? Because as well as the books he/she's written, he/she's also spun two companies out from his/her research.
And while it's understandable that you are uncomfortable with "the cult of personality", people are buying into your personality, aren't they? They believe you can help them.
And yet… and I struggle to put this diplomatically, the presentation of his/her work seems pretty gendered.
XXXX: "I think it's something I wrestle with a lot, because if you go to my talks the majority of the audience is men/women. Let me go on the record and say if you want to put me in an a room with AAAA, BBBB, or CCCC, I'll take that date any day of the week.